Ground Source Heat Pumps are a highly efficient way of tapping into and harnessing solar energy stored in the ground, rock or water and are a fitting alternative to traditional heating systems, potentially saving you money on your energy bills and reducing your home or businesses impact on the environment.
We install Ground Source Heat Pumps (GHSP) from the top manufacturers in the industry at Solaris Energy, with our range including Swedish and German manufacturers Nibe, Thermia and Stiebel Eltron. We find their quality, efficiency and durability are second to none. Ideally suited to the UK climate, they can be fitted in wide range of properties, from commercial premises and farms to housing developments and one-off bespoke builds.
How do Ground Source Heat Pumps work?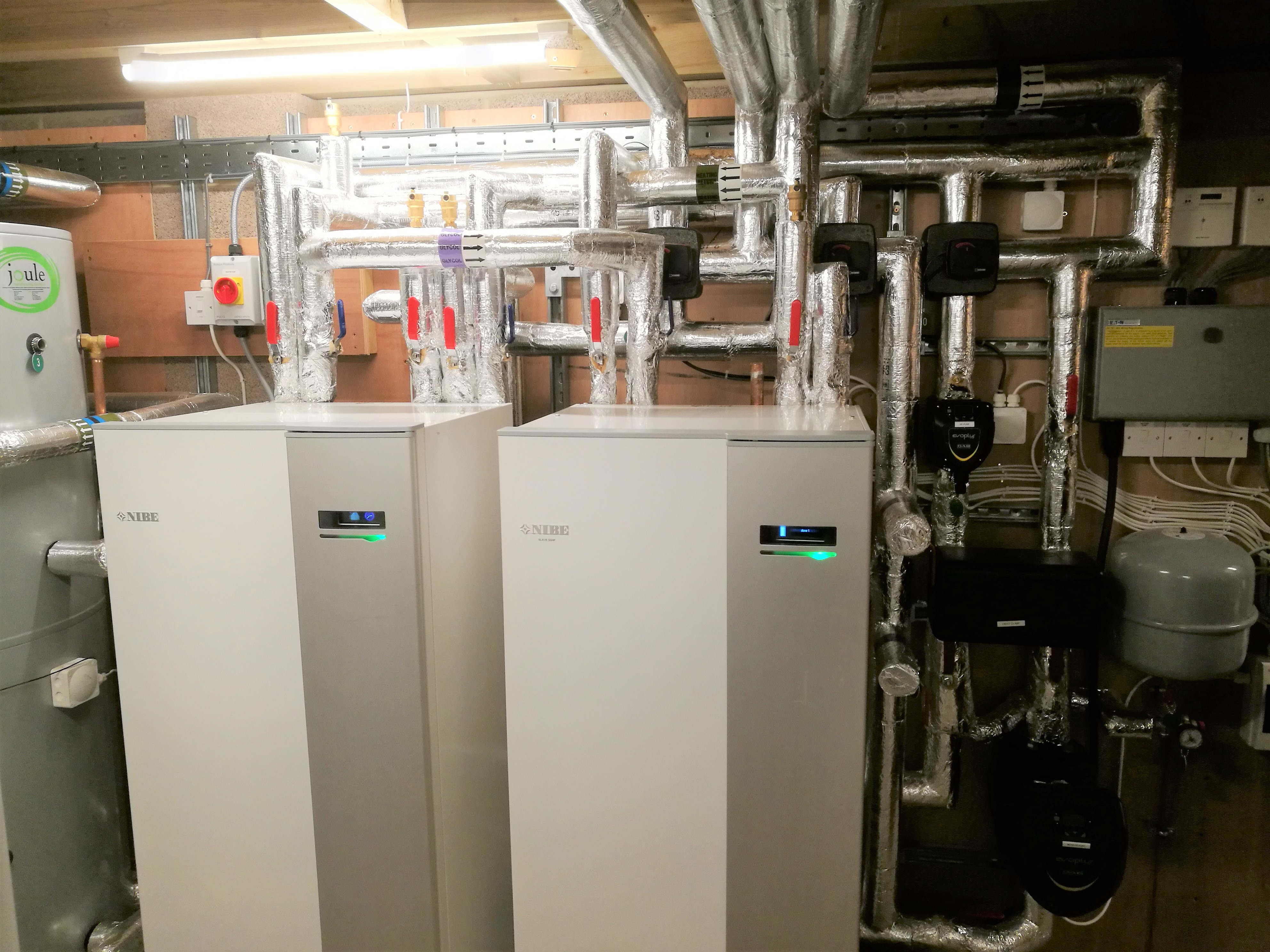 Ground source heat pumps (GSHPs) use pipes that are buried underground to extract heat. This heat can then be used to heat radiators, underfloor or warm air heating systems and hot water in your home or business.
A ground source heat pump circulates a mixture of water and antifreeze around a loop of pipe, called a ground loop, which is buried underground.
Heat from the ground is absorbed into the fluid and then passes through a heat exchanger in the heat pump. This then boils the refrigerant and compresses it, which raises its temperature in turn powering your central heating system. This warm fluid powers your radiators, underfloor heating, warm air convectors and hot water when returned. While the pump uses electricity to run, the energy it uses is offset by the heat it produces. The unit can also be used in reverse to dump heat back into the ground and provide chilled water for cooling the building in the same way an air conditioning unit would.
The stability in ground temperature throughout the year means that this way of harvesting heat is extremely efficient.
The length of the ground loop depends on the size of your home or business and the amount of heat you need, so there are a number of ways in which we harvest heat at Solaris Energy. These are:
• Horizontal Ground Collector – ground loops are installed one metre under the ground, drawing more heat from it. The length of the loops will depend on the size of your building and is bespoke to the buildings needs and the local geology. This is a very cost effective solution, but does require a large area of land.
• Vertical Collector – if space is limited, this solution is ideal. Working in the same way as a Horizontal Ground Collector, a vertical borehole can be drilled down to depths of up to 200 metres. While this system is more expensive than a Horizontal Collector, drilling deeper into the ground provides higher temperatures annually for the GHSP to extract. This results in a higher efficiencies.
• Water Source – GHSP pipes can submerged in a river, stream or lake where temperatures remain at a relatively constant level of between 7-12c. Virtually maintenance free and silent to run, a Water Source Heat Pump is able to produce more energy than they consume, with every 1kW used providing up to 4kW of energy out, making it a highly efficient system if you have access to a water source. Costs are similar to those of Horizontal Ground Collector.
• Open Loop Water Source - If you have a water abstraction borehole or are considering ways to create your own water supply, it's worth noting that you can use your own water supply to power your Ground Source Heat Pump. This system is completely bespoke, so for more information please contact us.
Benefits of Ground Source Heat Pump
• They reduce energy consumption compared to traditional heating methods such as electric, gas, LPG, oil or a coal-fired system
• They are very low maintenance and are the most efficient way of harvesting heat from the environment
• You can use a number of different sources to power/run them
• They are more aesthetically pleasing, as they are hidden from view
• They only require electrical service into the home or business
• You can use them for heating in the winter, hot water production all year round and as air conditioning (comfort cooling) when it's hot in summer

Get paid to heat your home
Renewable heating could not only significantly reduce your heating bills: you will also get paid to switch to this more environmentally friendly form of heating. Through the government's Boiler Upgrade Scheme, grants of up to £6,000 are available for homeowners looking to switch from an oil or gas boiler to a heat pump. Find out more in our FAQs section.